Get Your Golf On!
2001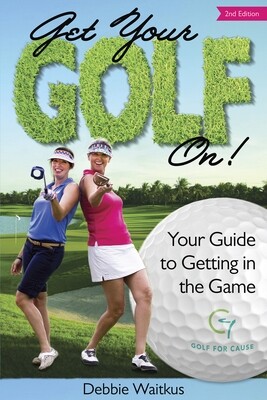 A fabulous book that serves as a wonderful welcome mat for new golfers – authored by Debbie Waitkus and includes forwards by Marilynn Smith, LPGA Co-Founder and Pam Wright, LPGA.
"Here's a book that makes a perfect gift for the woman you'd like to play golf with, except that she doesn't play. For all of the advancements in golf for women, the game still puts off newbies. The guys will just bluff their way through the awkwardness of picking up a new sport, but women want to feel welcome, invited, competent. With Get Your Golf On! Debbie Waitkus has succeeded in presenting a smart, friendly invitation to women by giving them all the information they need to feel comfortable at a golf course.
"She's not teaching the swing, the chip and the putt; rather, she offers tips on learning and practicing, plus all of the ancillary information required to make a tee time, check in, dress appropriately, keep score, navigate the golf course and observe all of the important etiquette and important rules."
~ Susan Fornoff, Gotta Go Golf
Recently enhanced, the book is now even better! It includes information about the Rules of golf (updated in 2019), business golf, betting games, resources as well as insights from LPGA Co-Founder Shirley Spork, Nancy Lopez, LPGA, Sandy LaBauve, LPGA & PGA and others.

A portion of the proceeds from each book goes to the Marilynn Smith Scholarship Fund, providing young women the opportunity to attend college.

Audience: New golfers, beginning golfers, and those looking to improve their personal or business relationships through golf. And a perfect way for experienced golfers to introduce others to the game!

What you'll learn:
How to get started, including wardrobe and equipment
Etiquette and basic rules, even how to drive a golf cart and read a scorecard
How to take your game, even as a beginner, to the golf course
Common golf terminology
How others got into the game and how golf will enrich your life, too
---
*Personalize It!

Personalize your book order for selected individuals, groups or events. You can include a message for your students, attendees for a clinic, the kick-off to a golf league or a special occasion. Your page (printed in black and white) will be inserted as the very first page of each book at the time the book is printed.
Contact us with your questions at: info@golfforcause.com
Yes, I want to Personalize My Books! ..see product details below for more info on this option (1)